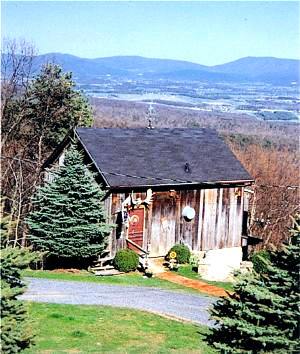 For more pictures click here.


"The Barn" was the recipient of the "2010 Business of the Year Award for Tourism and Hospitality" by the Page County Chamber of Commerce
Barbara Espenhorst is now an official Marriage Officiant
Page County


Cabin Description: The Barn at Elbow Landing cabin is just the place to get away from it all. Whether two nights or longer, your stay at The Barn at Elbow Landing cabin is sure to be a memorable experience. The owners of Elbow Landing have put a lot of themselves into making this a one-of-a-kind stop over. The homey and the natural, the quaint yet familiar-and occasionally the unexpected-are combined with charming effectiveness.
From Elbow Landing, high atop the eastern slope of New Market Gap, you're only minutes from a variety of relaxing activities. They include a nearby winery, cute villages with quaint shops, local restaurants and several natural caverns. Outdoor activities include hiking or biking on National Park trails, and self-guided tours of Civil War sites.
The efficiency-style arrangement of The Barn's cozy, rustic interior makes clever use of every nook and cranny. Even the modern Jacuzzi is a soothing, cleverly planned surprise. Personal touches are everywhere, a sign of the owners' interest in making your stay truly unforgettable.
Take in our restful view-From its hillside perch on the eastern side of Massanutten Mountains, the view from your balcony reveals one of nature's most scenic panoramas-The Blue Ridge Mountains. Seen by day or by night, our location will easily draw you into a state of tranquility that is sure to please.
No matter what you choose to do with your time, we're confident you'll agree The Barn at Elbow Landing is definitely the place to get away from it all. Open year 'round.
"Bikers Welcome"

Cabin Location: Luray, Virginia - Page County

Amenities: Fireplace Linens Stereo Telephone Air-Conditioning Jacuzzi Microwave Toaster Coffee Maker George Forman Grill Dishes Television Utensils Cookware
PET FRIENDLY Continental Breakfast Couples only Honeymooners Welcome!

Sorry: This cabin is no longer available for rent.

Contact:
When contacting us, please indicate that you found us thru the MountainLodging™ Vacation Cabin Rentals website.
"Elbow Landing"
Henry and Barbara Espenhorst
9042 U.S. Hwy. 211 West
Luray, Virginia 22835

Member: Page County Chamber of Commerce; Shenandoah Valley Travel & Tourism; and the Virginia Division of Tourism

Visitors since
September 15, 2005


Back to Mountain Lodging Vacation Rentals home page