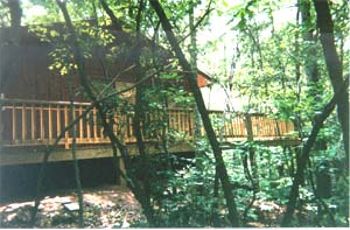 Description:
Please visit brendlebranchcabins.com for additional photos and information. There are only two cabins on 48 heavily wooded acres, so each cabin is separate from the other, providing solitude and privacy. Each cabin has its own private drive. Guests marvel at how quiet it is. Mountain laurel, dogwoods, wild azaleas, wild violets, lady slippers and trillium are some of the fantastic trees and flowers that take their turn blooming in the natural landscape. We strive to preserve the natural mountain setting. Brendle Branch Cabins are close to rivers, lakes and national forests. Rafting, horseback riding, golf, fishing, swimming, boating and canoeing are popular area activities. Scenic drives, festivals, craft and antique shopping are also popular activities. The John C. Campbell Folk School (one mile from the cabins) has mountain music concerts, dances and crafts as well as a museum. Murphy supports a local history museum. Visit brendlebranchcabins.com for links to area activities.

Cabin Location: Murphy, North Carolina

Amenities: Satellite TV/VCR BBQ AC Microwave Dishes Coffee Maker Washer/Dryer Linens Refrigerator Telephone
ADDITIONAL AMENITIES:
Large Deck, Picnic Table, Outdoor Fire Circle, Gas & Charcoal Grills, Ceiling Fans, Full Bath, Full Kitchen, One Mile from John C. Campbell Folk School (mountain crafts, music & dance), Peace & Quiet

No Pets Please
No Smoking In Cabins
No Firearms or BB Guns

Rates:
Rates are for up to 4 guests, each additional guest is $10 per night. White Pine Cabin (sleeps 6)-$425 per week or $75 per night. Crooked Tree Cabin (sleeps 6)-$425 per week or $75 per night. Rates are slightly higher for holidays and the month of October (fall leaf season). Visa and MasterCard are accepted. Brendle Branch Cabins are available year round. A cleaning fee, taxes, and an accidental damage fee will be added to the rent.

Contact:
When contacting us, please indicate that you found us thru the MountainLodging™ Vacation Cabin Rentals website.
Barry and Patricia Cunfer
If you would like more information or to make a reservation,
email: vacation@MajesticMountainGetaways.com
Phone 1: 877-379-9929 (Toll Free)
Phone 2: 706-379-9929

Visitors since September 15, 2005

Return to the North Carolina Cabin Rentals Page

Back to Mountain Lodging Vacation Rentals home page